Free Online Commercial Invoice Template
Create professional commercial invoices online with a free commercial invoice template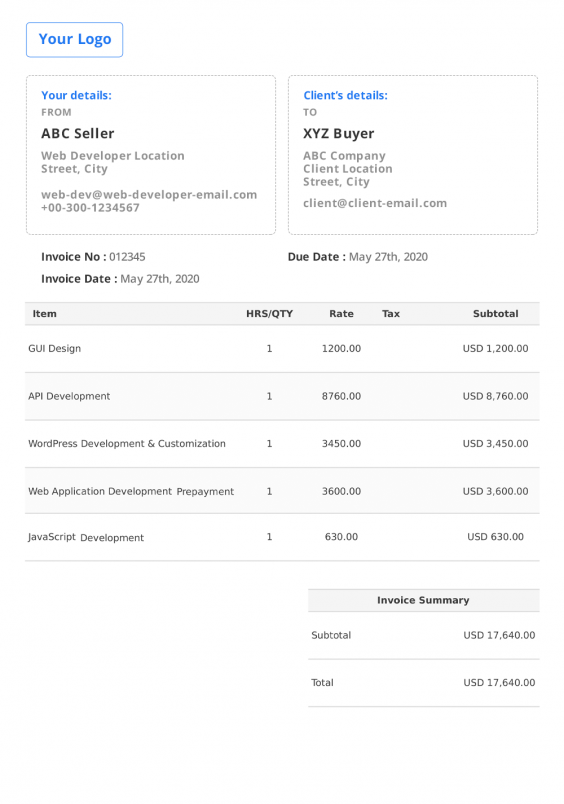 Streamline International Transactions & Create Free Commercial Invoices Online
If you're an exporter (supplier) or a business selling goods & merchandise internationally, you can create branded & professional commercial invoices using FreeInvoiceBuilder.com's free commercial invoice template.
Our online commercial invoice maker is a user-friendly web-app with an interface suitable for both mobile & desktop users. The template covers all the essential fields & details and provides a beautiful branded look. If you are exporting goods & merchandise, use our free commercial invoice template & manage your commercial transactions and shipments at a faster pace.
Commercial Invoice Requirements
 ✔

Seller/Company's Logo
 ✔

Seller/Shipper/Supplier's Information
 ✔ Seller's name, address, contact, country, license, and tax registration number
 ✔

Client's/Buyer's/Receiver's Information
 ✔

Buyer's name, address, contact details, & country
 ✔

Commercial invoice number
 ✔

Purchase order or Sales contract no.
 ✔

Issue date of the invoice
 ✔

Date – the goods went into transit
 ✔ Details and description of the goods/merchandise
 ✔

Country of origin of goods & products
 ✔ Net weight of goods -without packaging
 ✔

Gross weight of goods (along with packaging)
 ✔

Unit price and Total price
 ✔

Shipping details and Freight charges
 ✔

Applicable Tax information
 ✔

HS code or commodity code
 ✔

Terms/Incoterms of Sale
 ✔

Signature of the Seller/Exporter
Using Our Free Online Commercial Invoice Maker
Our free online commercial invoice generator is a web-based app with a predefined format containing all the necessary fields and features. All you need to do is to enter your accurate information in the relevant fields, and your personalized PDF commercial invoice is one click away. Download the digital copy of your commercial invoice & send it either electronically (via email) or print your commercial invoices.
Making an online commercial invoice on freeinvoicebuilder.com is a literal two-step process:
i. After landing on the page, select the drop-down menu at the top of the page and opt for the type of document you want to create. For instance, in this case, you need to select the option "commercial invoice".
ii. Put in your standard business information in the required editable fields, and you are all sorted.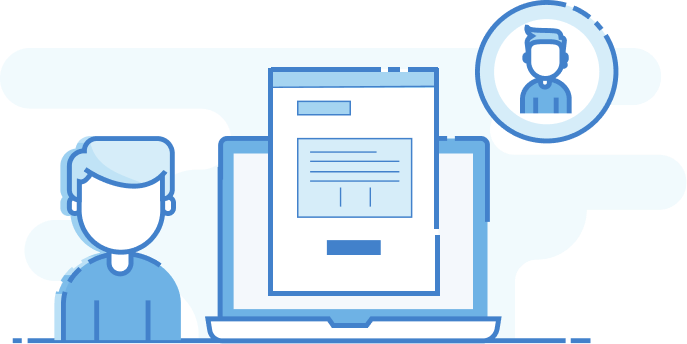 Create a Commercial Invoice with the Right Format
A commercial invoice is a documented proof of a transaction, sent by the seller/exporter after the products & goods are delivered to the buyer or importer. Using the proper formatting for commercial invoices & listing the required details is crucial to conduct your business professionally.
If you're exporting goods internationally then a commercial invoice is a necessity for your venture. It's always a good idea to use an online commercial invoice maker to automate the invoicing process.
Being a perfect alternative to the word and excel templates, our free commercial invoice template is tailored for your needs so you never have to worry about the formatting anymore. Simply add your logo & itemize the goods & services along with standard information to create your commercial invoice that has an attractive yet professional look.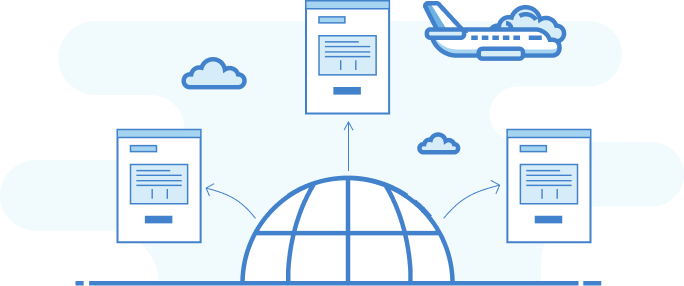 Why Do You Need a Commercial Invoice
Small business owners and individual sellers dealing with exports often use a commercial invoice for customs purposes. Automating your invoicing process has profound advantages for a business as well as underlying benefits for the buyer and seller. Here are some of the benefits of using an online commercial invoice:
✔ Informs custom's security of contents and reduces any delays.
✔ Prompts the payment by acting as legal sales evidence.
✔ Acts as an itemized bill to clarify the exact deliverables.
✔ Impedes any dispute by clarifying the gross & net cost of goods.
✔ Serves as a critical tool for recordkeeping for export businesses.
✔ Helps in estimating the final cost & net profit on the goods sold.
✔ Prevents you from audit problems by offering financial insight.
✔ Portrays you as a professional, credible, and trusted seller.
✔ Also enables legal protection to the buyer and seller.
✔ Commercial invoices for export helps customs authorities quickly decide which taxes and import duties apply to your package.
✔ Use freeivoicebuilder.com to modernize your invoicing process.
Commercial Invoice Tips & Best Practices
 ✔

Clearly Label the document as a COMMERCIAL Invoice
 ✔

Add your logo to showcase your business/brand
 ✔

Make it simple & scannable by not overlapping details.
 ✔

Align invoices with your branding & marketing activities to present them as a natural part of your communication
 ✔

State the necessary buyer and supplier details, accurately
 ✔

Provide shipment details along with unit & total value
 ✔

Write the descriptions of the goods & products to be sold
 ✔

Clearly mention the shipping weight, applied rebates or discounts, freight charges, and any other cost associated with the shipment
 ✔

Verify necessary details on your commercial invoice
 ✔

Make copies of  your commercial invoices to keep them as a legitimate and legal record
 ✔

Issue invoices electronically for easy record & tracking
 ✔

Save all your invoices in a cloud database for easy access
Commercial Invoice vs. Tax Invoice
As an international seller/supplier you should be familiar with the usage of the commercial invoice, proforma invoice, and tax invoice. Understanding their differences & actual usage in business can help you to better manage your business.
A commercial invoice is a legal customs-document intended to provide details and records of a transaction across the borders. Containing the final price, a commercial invoice acts as a bill, confirming the occurrence of a sale. A commercial invoice is issued after the goods are delivered and right before the payment is to be made.
A tax invoice entails the amount charged for goods and products along with a base amount of goods on which the tax rate is applied and payable. Containing the taxation details, a tax invoice serves as an affirmation for the receiver to claim the tax credit in the purchase price. A tax invoice is issued by a registered supplier under GST, TIV (VAT) distributor, or dealer.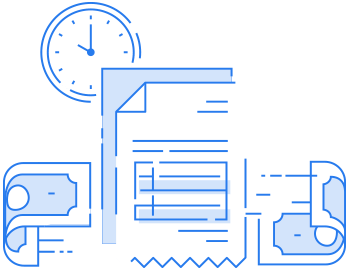 How Does the Purchase Order Process Work?
A Commercial invoice holds significant importance to determine stock level on a specific period & maintaining a smooth business process. However, invoicing is way more than just initiating a commercial document & receiving payments. Let us walk you through the multiple stages of a commercial invoice process.
1. Quotation Inquiry: The interested buyer or importer sends a letter of inquiry that outlines the terms of their interest in a product and asks for a quotation request from the seller.
2. Reviewing Order Requirements: The seller or exporter reviews the areas of interest of the potential buyer and analyzes the trade policies between the country of buyer and seller to process the deal.
3. Generating Proforma Invoice: The seller initiates a proforma invoice to give the client a preview of the details and estimated pricing of the promised deliverables.
4. Finalize the Sale: After analyzing the proforma invoice the client then issues a purchase order to finalize the transaction.
5.Prepare Commercial Invoice: After receiving the purchase order, the exporter prepares the ordered goods and creates a commercial invoice to conclude the final pricing and related details.
6.Prepare other Documents: The seller prepares a few more documents including a packing list, certificate of origin, shipper's letter of instruction, and bills of lading.
7. Goods in Transit: The ordered goods are placed for shipment and the commercial invoice is issued to the importer.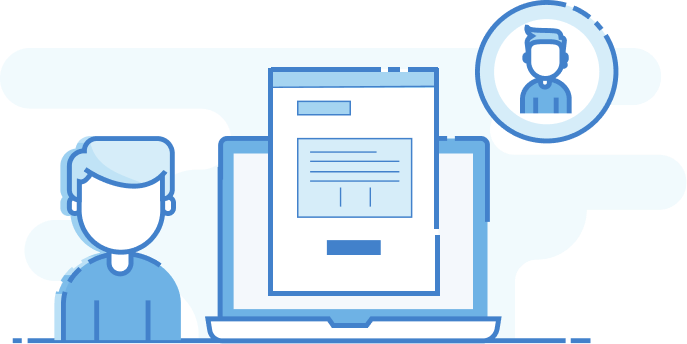 FAQs
Will my clients see "freeInvoiceBuilder" on the commercial invoice?
Never, although our commercial invoice generator is entirely free of cost, the generated commercial invoices are completely unbranded.
Can I add my logo to personalize the commercial invoice template?
You can easily drag or select your logo to the top left corner of the commercial invoice template.
Can I choose between different currency options?
Yes, FreeInvoiceBuilder provides you the option to choose any currency you trade in to create the receipt with an accurate price.
Can I create a PDF commercial invoice?
Yes, even if you don't have a registered account, our commercial invoice generator offers a ready-made template to customize & instantly download the PDF copy or save the information for later use.
How do I send a commercial invoice?
Send the created PDF commercial invoice electronically or print it. You can also share the link to your commercial invoice so your client can download or print the commercial invoice directly.
What is the difference between a commercial invoice and a shipping invoice?
A simple or standard invoice is generally used when trading in-house while a commercial invoice is issued for international agreements.