Free Online Proforma Invoice Template
Create professional proforma invoice online with a free proforma invoice template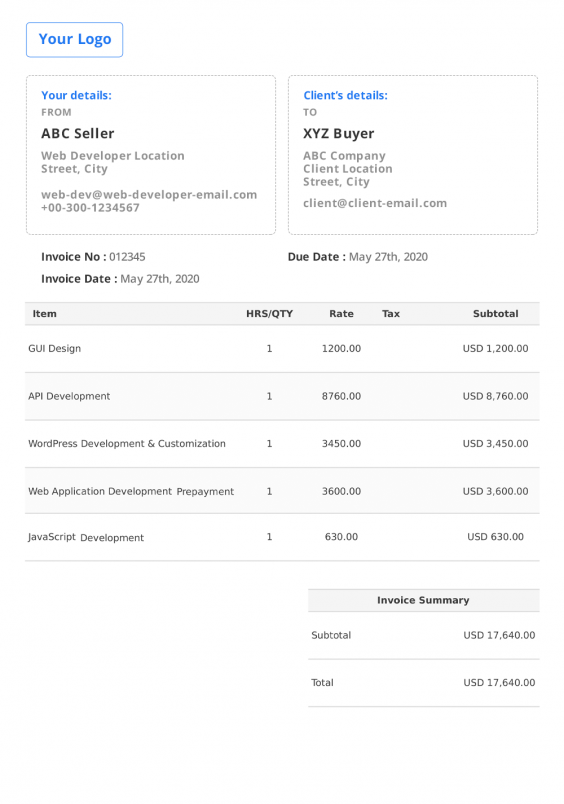 Set Clear Expectations & Generate Free Proforma Invoices Online
If you're a seller (supplier) or a business selling goods and services looking to create professional proforma invoices online, then use FreeInvoiceBuilder.com's free proforma invoice template, to streamline the billing process and automate the invoicing process.
Our online proforma invoice generator is convenient for both mobile & desktop users. The template covers all the essential fields & details with a professional & elegant design. Whether you are exporting goods and providing services internationally or trading in-house, our free proforma invoice template enables seamless transactions so you can get paid faster.
Proforma Invoice Requirements
 ✔

Seller/Company's logo
 ✔

Seller/Supplier/Exporter's information
 ✔ Seller's name, address, contact, & tax registration no.
 ✔

Client's/Buyer's/Receiver's information
 ✔

Buyer's name, address, & contact details
 ✔

Issue date of Proforma invoice
 ✔

Validity/Due-date
 ✔

Details & description of the products & services
 ✔

Unit price & Total amount
 ✔ Applicable Tax information
 ✔

Shipping & Billing address (if applicable)
 ✔ Terms & Conditions (GST/VAT)
 ✔

Document currency
 ✔

Loading period
 ✔

Relevant quantity sold
Using Our Free Online Proforma Invoice Template
Our free online proforma invoice generator is a web-based app with a predefined format containing all the necessary fields and features. Enter your accurate information in the relevant fields, and your free proforma invoice is one click away. Download the digital copy of your proforma invoice & send it either electronically (via email) or print your proforma invoice.
Creating an online proforma invoice on freeinvoicebuilder.com is a literal two-step process:
i. After landing on the page, select the drop-down menu at the top of the page and opt for the type of document you want to create. For instance, in this case, you need to select the option "proforma invoice".
ii. Put in your standard business information in the required editable fields and download the PDF copy of your proforma invoice.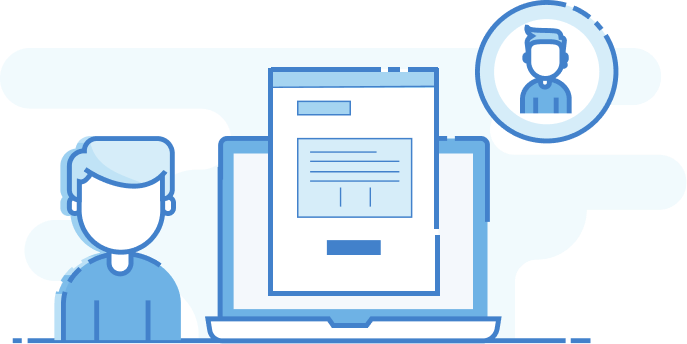 How to Write a Proforma Invoice with the Right Format
A Proforma or pro forma invoice is a preliminary bill of sale sent by the seller before delivering the goods and services. It provides an insight into the deliverables and their attached-conditions i.e. cost, timeline, and agreement terms.
Using a proper format & listing the required details is crucial to attract customers & have an error-free transaction. It's always a good idea to use an online proforma invoice generator to save time and effort on writing invoices from scratch.
Being a perfect alternative to the word and excel templates, our free proforma invoice template is tailored for your needs so you never have to worry about the formatting. Simply itemize the goods & services along with standard information to create your proforma invoice and you are all set to go.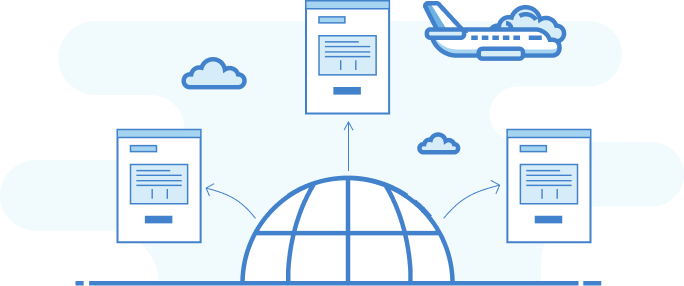 Why Do You Need a Proforma Invoice
Small business owners and independent sellers often use a proforma invoice to declare the value and specifications of the deliverables. Automating your invoicing has profound advantages for a business as well as underlying benefits for the buyer and seller. Here are some of the benefits of using a digital proforma invoice:
✔ Ensures that the buyer and the seller are on the same page.
✔ Prevents any conflict and dispute between the buyer & the seller.
✔ Since it's not the final invoice, a proforma invoice saves you from needless admin if any change occurs in the price and deliverables.
✔ Portrays you as a proactive, professional, and trusted seller.
✔ Helps in estimating the final cost and net profit on the promised goods and services to prevent you from audit problems.
✔ Provides the necessary details to the buyer about the products or services, time-line, & estimated cost to set clear expectations.
✔ Serves as a medium of clear communication b/w both parties.
✔ Helps in sustaining smooth workflow and managing the cash flow in a business by disregarding any money-losing mistakes.
✔ Use freeivoicebuilder.com to upgrade your invoicing process.
✔ Functions as the primary source for the seller to create an official invoice after the sale is confirmed.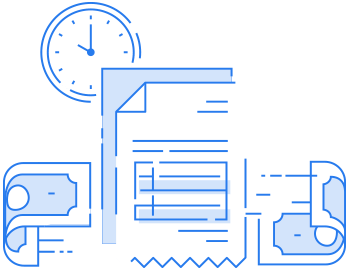 Proforma Invoice vs. Invoice
As a seller or freelancer, you should be familiar with the usage of invoices and proforma invoices for commercial purposes. However, understanding their functionality is sometimes confusing due to their in-between nature. Understanding their differences & using them can help you streamline the sales processes of your business.
A proforma invoice informs the buyer about the estimated billing prior to the order placement. Its primary objective is to set clear expectations by the seller about the deliverables and give a brief overview of the products and services yet to be delivered. A proforma invoice is not a final invoice since the billing details can be changed during the process. Unlike an invoice, a proforma invoice doesn't contain an invoice number and hence is not legally binding.
On the other hand, a simple invoice is a financial instrument issued by the supplier/vendor after a sale is complete. It legally binds the client to release the due payment in return for the ordered goods and services. It includes all the required details for payment like Tax/VAT info, method of payment, currency, due date, etc.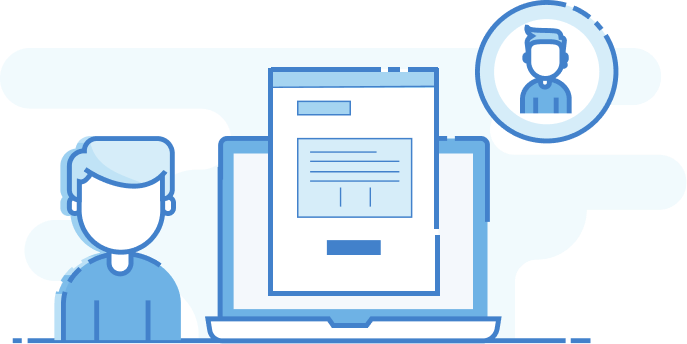 How Does the Proforma Invoice Process Work
A Proforma invoice holds significant importance to maintain the cash flow in a business. However, invoicing for business at regular intervals is an effortful task that can be made easier with an online proforma invoice template. Selling & invoicing is way more than initiating a commercial document & receiving payments. Let us walk you through the multiple stages of a proforma invoicing process.
1. Review Order Requirements: After receiving a purchase order, the seller reviews details including quantity of goods and services, shipping and loading details. The cost incurring at each stage is also calculated to estimate the total preliminary cost.
2. Breakdown Necessary Details: A proforma invoice document is then prepared so the seller & buyer are on the same page about the quantity and cost of each product and service.
3. Proforma Invoice Dispatch: The seller issues the proforma invoice before delivering the goods to inform the buyer with a preview of the cost and agreement terms.
4. Providing the Deliverables: After receiving the go-ahead from the prospective client, the seller ships the ordered goods and products to comply with the financial agreement.
5. Final Invoice: Lastly, the seller or supplier prepares a final invoice summing up any variable element (price & quantity) in the whole process. This invoice is promptly sent to the buyer to get paid timely.
Proforma Invoice Tips & Best Practices
 ✔

Label the document as a PROFORMA Invoice
 ✔

Add your logo to showcase your business/brand.
 ✔

Make it simple & scannable by not overlapping details
 ✔

Itemize the necessary details in a clear & concise format
 ✔

Provide a distinct description of the goods & services
 ✔

Clearly mention the shipping weight, address, cost, applicable taxes, & terms & conditions in the proforma invoice
 ✔

Cross-check the critical details on your proforma invoice
 ✔

Align your invoices with branding & marketing activities to present them as a natural part of your communication
 ✔

Issue invoices electronically for easy record & tracking
 ✔

Include a formal thank you or appreciation note at the end
 ✔

Use an online proforma invoice generator & save all your invoices on the cloud in a database for future easy access
 ✔

Automate the invoicing process to optimize workflow
FAQs
Will my clients see "freeInvoiceBuilder" on the proforma invoice?
Never, although our proforma invoice generator is entirely free of cost, the generated proforma invoice is completely unbranded.
Can I add my logo to personalize the proforma invoice template?
You can easily drag or select your logo to the top left corner of the proforma invoice template and brand your business seamlessly.
Can I generate a PDF proforma invoice?
Yes, even if you don't have a registered account, our proforma invoice maker offers a ready-made template to customize and instantly download the PDF copy or save the information to use later.
How do I send a proforma invoice?
Send the created PDF proforma invoices electronically or print them. You can also share the link to your proforma invoice so your client can download or print the proforma invoice directly.
Can I choose between different currency options?
Yes, FreeInvoiceBuilder provides you the option to choose any currency you trade in to create the proforma invoice with an accurate price.
Can payment be made on a proforma invoice?
No, since a proforma invoice is not a final invoice, it does not contain exact and accurate pricing, hence, does not act as an official call for payment.
When should a proforma invoice be issued?
A proforma invoice is generally sent when a sale is initiated but the final cost is unknown. This gives a preview of the pricing and relative details of the ordered goods and services to the prospective customer.