Free Online Purchase Order Template
Create professional purchase orders online with a free purchase order template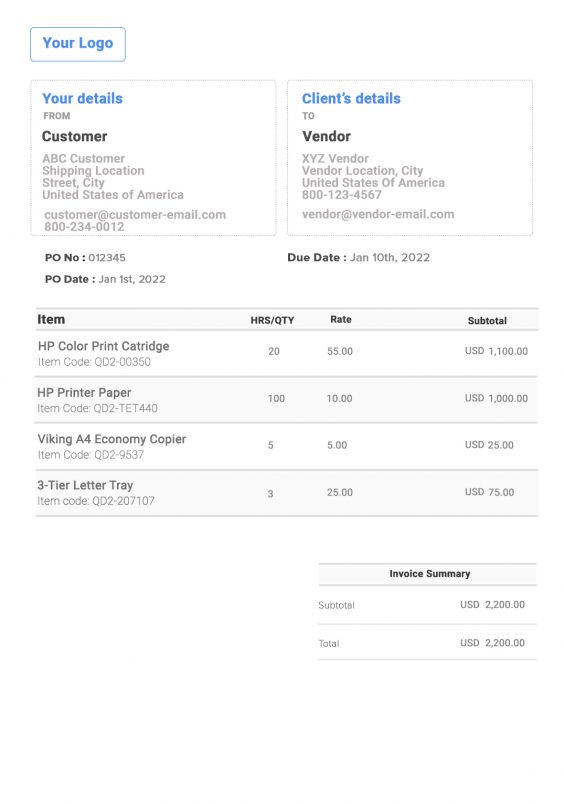 Streamline Purchasing Process & Generate Free Purchase Orders Online
If you're a buyer (or client) of goods or services looking to create a purchase order on your own then use FreeInvoiceBuilder.com's free online purchase order template to stay organized and save your time processing & making purchase orders.
Our online purchase order generator is convenient to use for both mobile & desktop users. Our template covers all the important details & required fields you need. Whether you are procuring goods for your business from a supplier or making a purchase online for yourself, our free purchase order template is here to shortcut the job of generating professional purchase orders.
Purchase Order Requirements
 ✔

Seller/Company's logo
 ✔ A purchase order number
 ✔ Vendor/Seller/Supplier Information
 ✔ Client's Information
 ✔ The name, address & contact of buyer
 ✔ The name, address & contact of seller
 ✔ Issue date of a purchase order
 ✔ Quantity of each product
 ✔ Details & description of the products & services ordered
 ✔ Price of the goods & services being ordered
 ✔ Tax Information
 ✔ Terms & conditions
 ✔ Special Notes
How to Generate a Purchase Order with the Right Format
A purchase order is a commercial document sent by the buyer or the acquirer of the services/products to the seller or supplier. If you're running a business ordering supplies on a regular basis then using a professional purchase order template can be helpful for smooth & seamless transactions.
Using a proper format & listing the required details is crucial. Our free purchase order template is tailored for your needs so you never have to worry about the formatting, just add all the details in the editable fields & download your copy to save the hassle of writing purchase orders from scratch.
It's always a good idea to use an online purchase order generator and create a list of the services & products, so you can copy and paste them into your template.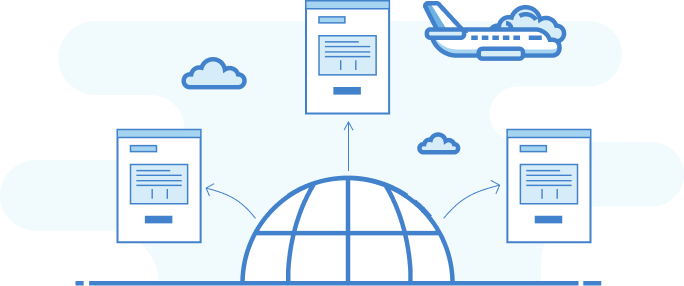 Why do You Need a Purchase Order
If you're making a purchase for a small/mid/large-sized organization or running a business yourself, using a purchase order can have some profound advantages for businesses as well as underlying benefits for the buyer & seller. Have a look at the benefits of using a purchase order:
✔ Easy order-tracking & keeping check of all the important info about services, products, payment terms, & delivery.
✔ Serve as a medium of clear communication between the seller/supplier & the buyer/acquirer evading any disputes or confusion.
✔ Makes your vendors' life easier & also helps prevent audit problems.
✔ Accurate management & timely monitoring of expenses & budget.
✔ Avoid any dispute leveraging purchase orders as legal documentation to provide contractual & legal protection for the buyer & the supplier.
✔ Helps avoid any money-losing mistakes & scenarios.
✔ Control the cost of ordered goods & services within a business.
✔ Helps track the delivery, payment, & internal status of every order.
✔ Serve as a critical source of information for spend reports.
✔ Use freeivoicebuilder.com to improve your purchasing process & simplify the workflow.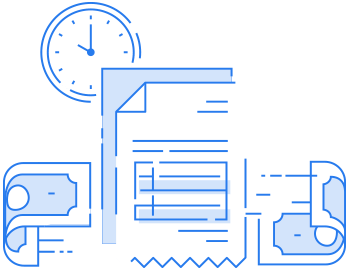 How Does the Purchase Order Process Work?
Purchasing for yourself or your company can sometimes be a challenging process but, using an online purchase order generator instead of manually writing up purchase orders can help simplify that. Ordering & purchasing includes more than just initiating a PO & sending it to the supplier. Let us walk you through the multiple stages of a purchase order process.
1. Purchase Order Creation: After being given the go-ahead by the company to create a purchase requisition, a document is created with the details about the required items, quantity, time & schedule of delivery, payment terms, & the budget. You'll also need to know the vendors to whom you'll be sending the PO.
2. Purchase Order Approval: The purchase requisition is then approved after confirming the budget and details & making sure that the PR aligns with the company's requirements, policies & guidelines.
3. Purchase Order Dispatch: After the approval, the PO is generated & dispatched to the vendors for approval & fulfillment.
4. Binding Contract Creation: Once the PO is accepted by the vendor, a legal agreement is created between the seller & buyer, critical for resolving any disputes.
5. Delivery: The goods are delivered according to the schedule & delivery terms.
6. Invoice: A document is sent by the supplier to the buyer asking for payment of the goods/services provided.
7. Three-way Matching: Cross-checking the PO, against the invoice & products received & closing the purchase order.
Purchase Order Tips & Best Practices
 ✔ Build a database for vendors you've ordered from
 ✔ Create copies of every purchase order sent to a seller
 ✔ Use an online purchase order generator for faster approvals & tracking payments
 ✔ Double-check your POs for accurate information
 ✔ Purchase orders should be documented for future audits
 ✔ Reduce the excess time by using the freeinvoicebuilder.com purchase order template
 ✔ Build a healthy relationship with the seller by using well-drafted purchase orders
 ✔ Automating the PO process can optimize your workflow
 ✔ Avoid disputes by writing purchase orders with clear and straightforward terms and conditions
 ✔ Streamline inventory management by using an online purchase order generator
 ✔ Know the types of POs eligible for different situations
 ✔ Save a lot of physical paperwork using an online purchase order generator for digital POs
Purchase Order Vs. Invoice
Running a business requires you to manage multiple jobs & processes. From purchasing & ordering to billing & selling. You might have to create purchase orders & invoices for multiple business purposes. Understanding the difference between them & using them to streamline your workflow can help you to stay on top of your business.
Purchase order & invoice are commercial documents established to initiate, authorize, & conclude distinct business transactions. A purchase order is initiated when a buyer wants to make a purchase of certain goods & services and a PO confirms the order by stating multiple details & terms about the items, quantity, pricing, delivery, & payment. Purchase orders not only serve as a contract between the buyer & the seller but also help manage payments & simplify conditions.
Invoices on the other hand are used by sellers & service providers after the conclusion of a transaction & requesting to get paid for the goods/services provided. Invoices mainly include the information about the products/services provided, their individual costs, no. of hours worked, payments terms, & due date. Unlike purchase orders invoices are sent after the delivery of goods/services for payment & can also be used for keeping a record of your earnings & finances.