Free Online Quote Template
Create professional quotations online with a free quote template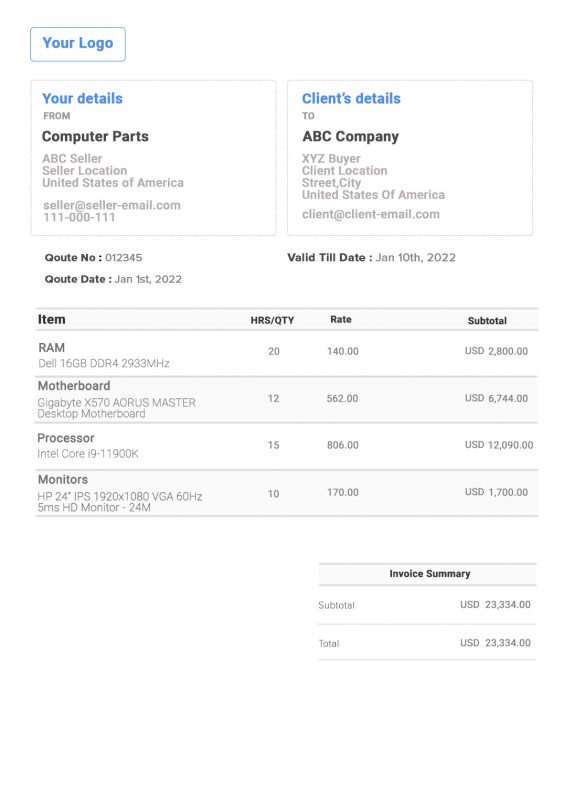 Simplify Business Process & Generate Free Quotations Online
As a seller (or vendor) running a business, you want to start off a project well & send a quote to the potential buyer. A well-drafted quote is an important tool to establish good communication with the buyer & helps convey all the important info about your items & services to get approval from the buyer/client. Our free online quote template by FreeInvoiceBuilder.com is a ready-to-use and easily customizable template to help you stay organized.
Our online quote generator is a handy tool that is tailor-made for sellers & individuals looking to create their quotations without much hassle. Our user-friendly quote generator is suitable for both mobile & desktop users. The simple yet professional quote template includes all the necessary fields & features to increase your conversion rates.
Quote Requirements
 ✔ Standard Business Information
 ✔ Seller/Supplier/Vendor's Details
 ✔ Client's/Buyer's/Receiver's Information
 ✔ Date of Issuance of Quote
 ✔ Due-date/Validity of the Quote
 ✔ Name, Address, Contact, & Tax Registration No. of Seller
 ✔ Name, Address, & Contact details of Buyer
 ✔ Product & Service details
 ✔ Quantity of products sold
 ✔ Pricing details per unit
 ✔ Applicable Tax information
 ✔ Currency type
 ✔ Net amount payable
 ✔ Terms and Conditions (T&Cs)
 ✔ Special Notes/ Payment terms
Using Our Free Online Quote Generator
Our free online quote generator is a web-based tool with a pre-contrived format containing all the information fields. The service provider just needs to copy and paste the required details and gets to download the PDF quote right away. This entire process takes you less than 5 minutes and provides you with a promising quote.
Generating an online quote on freeinvoicebuilder.com is a literal two-step process:
i. After landing on the page, select the drop-down menu at the top of the page and opt for the type of document you want to create. For instance, in this case, you need to select the option "Quote".
ii. The second step is all about putting in your standard business information in the required fields, and you are all set to launch your next sale.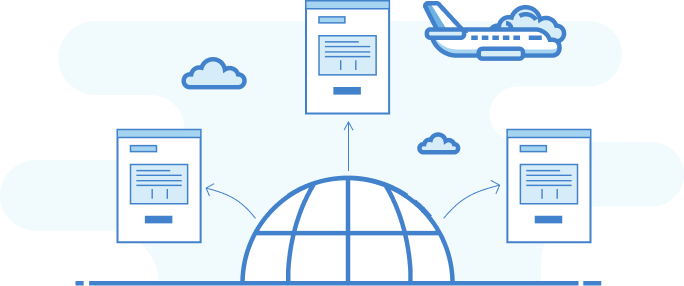 Why do You Need a Quote?
A quote also known as a service or business quote is a commercial document used by the buyer to indicate a fixed price of the requested products & services. Using a quote (or quotation) adds a presentable & straightforward touch to your business & enhances your credibility as a seller. Below are the benefits of using an online quote template & generator for your business:
✔ Provides a way for the buyer & seller to get agreed on a pay-rate.
✔ Indicates error-free resources, labor, & manufacturing material.
✔ A quotation also serves as an important source of information, including the scope and terms of the work.
✔ Crafts a platform of clear communication regarding the offered services and their pricing for the buyer and seller.
✔ Minimizes the risk of confusion, disputes, & business conflicts.
✔ The quote generator saves time for both the seller & the client.
✔ Signed-off quotes also help in managing the cash flow and profit in business; expenses and budget.
✔ Having a documented contract of details as a quote portrays you as a reputed brand and a credible seller.
✔ Transparent details of offers with pricing set the seller as professional, honest, and upfront.
✔ Serves as a record of necessary info about products, services, payment duration and terms, gross and net pricing.
✔ Aids the buyer and seller with legal protection for their rightful authority on the terms of a quote.
✔ Lessens the chances of unfinished contracts and deals.
✔ Provides a record of all the critical terms in the agreement.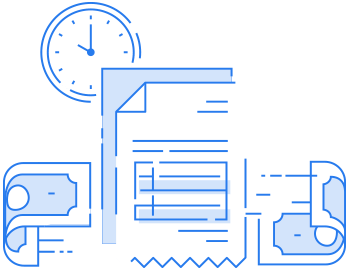 How Does the Quote Process Work?
Generating a quote from scratch may turn out to be a time-consuming & effortful task. The online quote templates have made it easy & have streamlined the quotation process for businesses and individual sellers. 
Some businesses may receive an RFQ that they need to respond to. An RFQ is not much different from a generic quote request but does have some differences which include the level of detail, standardized format, & any need for some specific information. Below is a detailed breakdown of the multiple steps of a quote process.
1. Quote Creation: Evaluate customer's pain points & create a document with the prescribed format by the client. Include a brief introduction of your company, product, and service details.
2. Company Overview (for an RFQ): After receiving the RFQ from the client, a quote is updated with the seller's standard company details.
3. Client Information: The client's information like his company details and basic contact details are incorporated in this phase.
4. Pricing of Products & Services: Specify the pricing details of the deliverables after determining your price policies.
5. Terms and Conditions (T&C): The seller includes the applicable terms and conditions to the client's order.
6. Sending the Quote: Forwarding the quote to the client through a medium that is convenient to access like a text or an email.
7. Approval From The Client & Follow-up: The client either approves the quotation or rejects the offer. However, If the client doesn't respond to the quote in the specified time, then a request for follow-up is sent.
Quotation Tips and Best Practices
 ✔ Use proper formatting & structure when writing a quote
 ✔ Create a database of your clients/customers
 ✔ Save backup copies of the quotes that you send to your prospective clients
 ✔ Use an online quote template to save time & effort
 ✔ Streamline the approval process by providing an easy way for clients to approve your quotes
 ✔ Design your quotations in a way that effortlessly represent your business model and image
 ✔ Ensure that your quote is error-free
 ✔ Add your unique selling proposition in the quote
 ✔ State terms & conditions clearly to avoid any conflicts
 ✔ Use quote-to-cash software to increase conversion rates
 ✔ Save your time by using freeinvoicebuilder.com to generate a free digital quote
 ✔ Know the types of quotes eligible for different situations
 ✔ Use an online quote generator to automate the quotation process and optimize your workflow
Quote vs Estimate
Owning a business requires you to manage multiple tasks. This often means using different tools & practices, managing documents, and many other resources. Two of these frequently used business tools are quote and estimate, & understanding the difference between the two is of utmost importance for you to make better business decisions.
A Quote is a commercial written-statement used to legally bind the seller and the client in a mutual understanding of terms and conditions. It includes the details of the products and services being offered, along with its exact and fixed price. A quote provides legal and documented protection to both the buyer and seller.
Whereas an Estimate contains the approximate cost of a project, program, or service. Estimates are used to create an idea of the overall cost of the service to the client or buyer. Since the price estimate does not contain a fixed cost, it may vary upon the completion of the task.