Free Online Receipt Template
Create professional receipts online with a free receipt template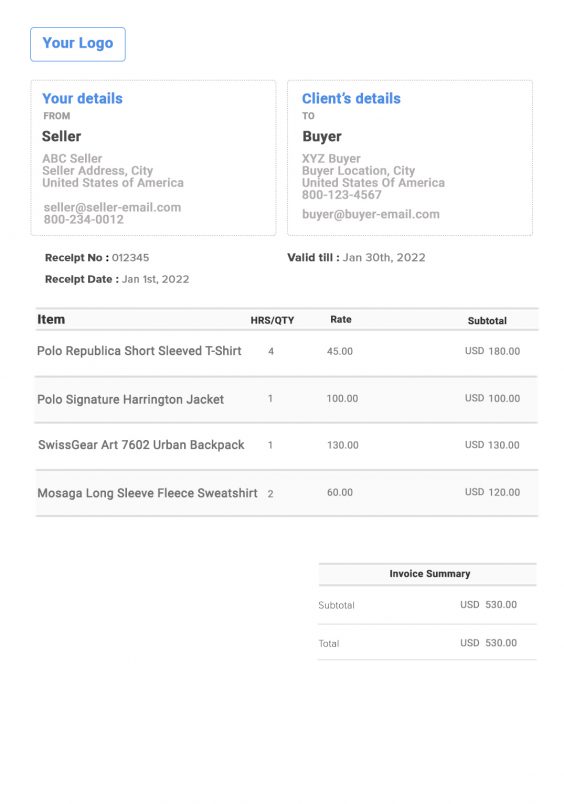 Track Your Sales & Generate Free Receipts Online
Whether you sell goods & services online, have a brick & mortar store, or work on-site, your business requires professional receipts to help you stand out and track your bills and sales at the same time. FreeInvoiceBuilder.com's online receipt template can simplify this process by instantly converting your sales into executive receipts with an impressive design.
Our free online receipt maker is a ready-to-use software to conveniently generate cash sales receipts on mobile and desktop. Whether you're a landlord/tenant recording rent payments, a supplier tracking online sales, a charity accepting donations, or a service professional working with cash payments our receipt template has got you covered. So save your time processing receipts & invest more in servicing, selling & helping.
Receipt Requirements
 ✔

Seller/Supplier/Vendor's information
 ✔

Seller's name, address, contact, & tax registration no.
 ✔ Seller/Company's logo
 ✔

Client's/Buyer's/Receiver's Information
 ✔

Buyer's name, address, & contact details
 ✔

Due-date/Validity of the receipt
 ✔

Receipt number
 ✔

Issue date of the receipt
 ✔

Details of the products & services
 ✔ Date of Payment
 ✔

Relevant quantity sold & price
 ✔ Applicable Tax information
 ✔

Payment Method
 ✔

Amount Received
 ✔

Shipping & discount details (if applicable)
 ✔

Document currency
Using Our Free Online Receipt Maker
Our free online receipt generator is a web-based app with a predefined format containing all the necessary fields and features. All you need to do is to enter your accurate information in the relevant fields, and your personalized PDF receipt is one click away. Download the digital copy of your receipt & send it either electronically (via email) or print your receipt and benefit from this streamlined receipt-making process.
Making an online receipt on freeinvoicebuilder.com is a literal two-step process:
i. After landing on the page, select the drop-down menu at the top of the page and opt for the type of document you want to create. For instance, in this case, you need to select the option "Receipt".
ii. Put in your standard business information in the required editable fields, and you are all sorted.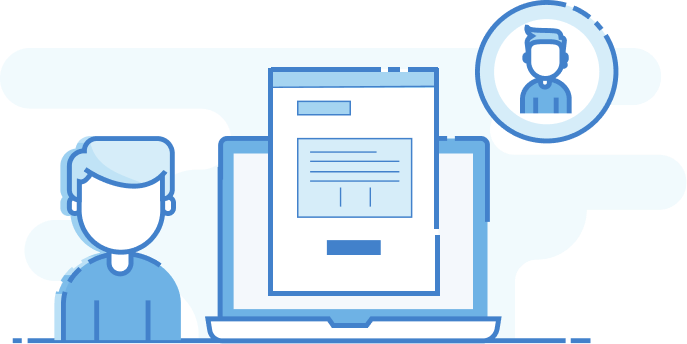 How to Make a Receipt With The Right Format
A receipt, also known as a payment receipt or sales/cash receipt, is a commercial document sent by the seller to the buyer or acquirer of the products & services in order to provide legal evidence for the transfer of monetary compensation or value between a buyer and seller.
Tabulating the required details & adding the standard information is essential for creating a professional receipt. A receipt with the right formatting style provides a more organized and professional image of your business to your customers.
Being the perfect alternative to word and excel templates, our free receipt template is contrived based on your needs so you never have to worry about the formatting. Simply itemize the goods & services along with standard information to create your receipt and you are all set to go.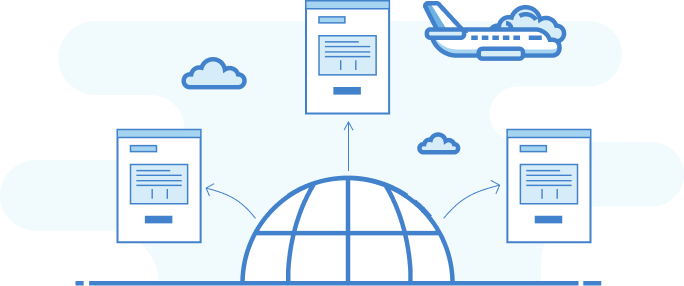 Why Do You Need a Receipt for Your Business
For small & large businesses a receipt comes in handy for keeping accurate records, tracking expenses, & settling sales transactions professionally. Automating this process by using an online receipt generator helps you to stay organized & saves time.
✔ Serves as a record-keeping tool for businesses to monitor their progress and creates transparent annual financial reports.
✔ Serves as a valid warranty claim for sale and purchase returns.
✔ Avoid any dispute leveraging receipts as legal documentation.
✔ Legal protection to the client & vendor for business dealings.
✔ Ensures the creation of accurate annual financial reports.
✔ Serves as a cross-checking source for bookkeeping which assists in determining actual deductions and accurate net profit.
✔ Easy-to-track transactions for both buyer and seller while enabling ownership for their receiving and payments respectively.
✔ Portrays the seller as transparent and credible.
✔ Reduces the chances of tax obligations and determines the accurate tax payable by excluding taxable & non-taxable income.
✔ Use freeivoicebuilder.com to upgrade and organize your receipt making process.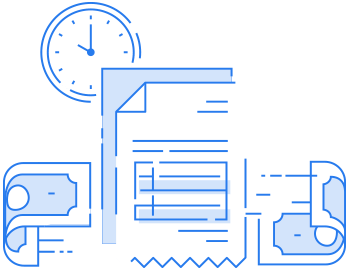 Receipt vs. Invoice
Financial transactions like billing, selling, or purchasing are finalized with an invoice or a receipt to complete the formal agreement between the buyer & seller.
A receipt is a document generated to provide the details and proof of a successful monetary transaction between the buyer & seller. It also serves as a genuine statement to acknowledge the latter promised customer care services and facilitate your clients with their rightful authority.
In contrast to receipt, an invoice is a document consisting of details about the services or products provided and also concludes the sales transaction allowing the seller to get paid. An invoice is established with credential information including invoice number, date issued & valid-till date, product/service details, accurate pricing, and payment terms, to make it a quick call to action.
Receipt Tips & Best Practices
 ✔

Make it simple & scannable by not overlapping details
 ✔

Create and

send the receipt promptly after getting paid
 ✔

Mention the payment terms, discounts issued, total payment, & due date to avoid any future conflicts
 ✔

Double-check the receipt for any errors or wrong details
 ✔

State any relevant information or references i.e purchase order by the customer to process the payment request.
 ✔

Send receipts electronically for easy record & tracking
 ✔

Always record the cash sales transaction in the log
 ✔

Add a formal thank you or appreciation note in the receipt
 ✔

Provide a clear description of products/services with accurate pricing, warranty deadline & after-purchase terms
 ✔

Use an online receipt generator like freeinvoicebuilder & save all your receipts on the cloud for easy access.
 ✔

Double-check your receipts for accurate information
 ✔

Mention the necessary details in a clear & concise format
FAQs
Will my clients see "FreeInvoiceBuilder" on the receipt?
Never, although our receipt generator is entirely free of cost, the generated receipts are completely unbranded.
Can I add my logo to personalize the receipt template?
You can easily drag or select your logo to the top left corner of the receipt template and brand your business seamlessly.
Can I choose between different currency options?
Yes, FreeInvoiceBuilder provides you the option to choose any currency you trade in to create the receipt with an accurate price.
Can I make a PDF receipt?
Yes, even if you don't have a registered account, our receipt maker offers a ready-made template to customize and instantly download the PDF copy or save the information to use later.
How do I send a receipt?
Send the created PDF receipt electronically or print it. You can also share the link to your receipt so your client can download or print the receipt directly.