Effective Ways to Guard against Payment Concerns
The most common complaints among freelancers relate to nonpayment, partial payment, or late payment from clients. As a professional person providing expert services, this is simply unacceptable on all levels. Various studies over the years have confirmed that many freelancers are routinely paid late, or not paid at all. Freelancers are required to create the necessary framework with pricing, invoicing, and payments processing before any work is undertaken for clients.
Such challenges need to be addressed with urgency and newfound resolve. A good place to start is setting up an effective invoicing system. A recent study from New York State found that lost 'freelancer' wages over a 1-year timeframe amounted to $3 billion in NY alone. Similar trends are evident around the world. Freelancers may believe that clients are avoiding their calls for payment, however, this is usually not the case. Once an invoice is received by a client at a company, it must be approved by the relevant manager and then sent on to the accounts department for processing. Depending on the date of the invoice, the terms of service, and the payment process at the company, the invoice will be processed accordingly. It is not at all uncommon for invoices to have a 30-day, 60-day, or 90-day payment time-frame.
Regardless, as a freelancer, you probably cannot afford to carry your clients for up to 3 months as you have daily, weekly, and monthly bills to pay like everybody else. In the United States today, there are an estimated 42 million+ freelancers, and that number is growing at a rate of knots. The Internet of Things has facilitated a culture of remote employees, and the benefits are enjoyed by businesses and freelancers alike.
Communicate your Invoice Payment Terms 

The first order of business is to create an action plan for success. As a freelancer, you are your independent business. The buck stops with you. As such, you must take all necessary steps to ensure the professionalism of your business operations on every level. Payments processing is sacrosanct. Even before an invoice-based system has been established, it's important to clearly indicate the payments terms and conditions in your contractual agreement you're your clients.
Mitigating Nonpayment by Requiring Earnest Money Deposit or Advanced Payment
You may wish to opt for a customizable contract from a prepaid service or enlist the support of a legal team to create the necessary paperwork for you to email to clients. Sometimes it's necessary to negotiate a little to ensure that you don't lose business opportunities with clients. If a client has a 60-day payment period and your payment terms require 30-day processing, you may be able to negotiate partial payments at the 30-day mark.
There are various options available to freelancers to protect against nonpayment or late payment. One of these is an upfront fee for all work that is contracted. The money is effectively left in an escrow-style account until the work is submitted. This earnest money is payable upon acceptance of the contract terms. You can also negotiate time-frames for incremental payments to be made via the invoicing system that you have selected. For example, instead of waiting 90 days for payment, you could have partial payments made every two weeks as incremental work is provided.
On the topic of invoicing, many options need to be considered to ensure that outstanding bills are not simply swept under the rug. Clients must be appraised of the invoicing system you are using, and the terms of service you expect to be met. Get everything during the payment and invoicing process in writing and on record – signed with dates, titles, and terms of service or when using E-Invoicing have it e-signed. Armed with that information, you have recourse in the event of nonpayment. Many folks in the world of independent workers and freelancers report that their clients are happy with their work, but the issue is largely non-payment or late payment.
Payment Issues with Cloud-Based & Automated Invoicing Services
Cloud-based and automatic invoicing services are coming into their own. These systems can help to depersonalize the payment system by removing emotionally-based pleas for payment from the freelancer to the client. Friendly reminders from invoice systems to clients are both professional and non-emotional. These cloud-based and automated invoicing systems are designed to remind clients to make payment, and since they are sent from a billing-style service, they are treated as such.
Online billing and online invoicing services abound, but it's imperative to choose the most professional services to generate the desired outcomes. With all systems, follow-up is essential. Invoices that are sent out need to be effectively managed to ensure that prompt payment is made on all of them. Since freelancers work pretty much around the clock, it's often difficult to keep track of unpaid invoices if these are not part of an expertly managed invoicing system.
Effective Ways to Craft a Serious & Professional Invoice

Expertly crafted professional invoices must contain certain elements, these can also be customized according to your personal and business needs. For example, for your invoice to read well, the header must be professionally written and presented. Your business name should be displayed prominently in a legible format, and appear slightly larger than the font used in the remainder of the text. You may wish to consider using a bold option for your business name in your invoice. For example:
ABC FREELANCING CORP
1234 Town Center Drive
New York, NY
10058
Tel: 212 555 1234
Always include your relevant contact information to make it easy for the client to reach you and input your details into the accounts payments system. Many businesses prefer to use a professionally crafted logo, emblem, or insignia to accompany their invoice – this lends further credibility and builds brand awareness. Equally important on all invoices is information about the client. For example, invoice format must clearly  the name of the client, the address of the client, and the contact details of the client below the header of the invoice. Your information should be posted on the left of the invoice, and the client's on the right, or vice versa.
Manage, Track & Follow Up with your Invoices Easily with these Elements included:
The invoice preparation date, typically the end of the month, or the beginning of the month.
The invoice number for easy tracking and management of paid/unpaid invoices. Invoice numbers could be the first three letters of the client's name followed by the date, or any other alphanumerical system that works for you.
If freelancers operate as businesses, the business registration number or company ID number must be included in the invoice to add credibility and comply with regulatory standards.
The payment due date is when the freelancer expects the payment to be received. This must be clearly specified on all invoices.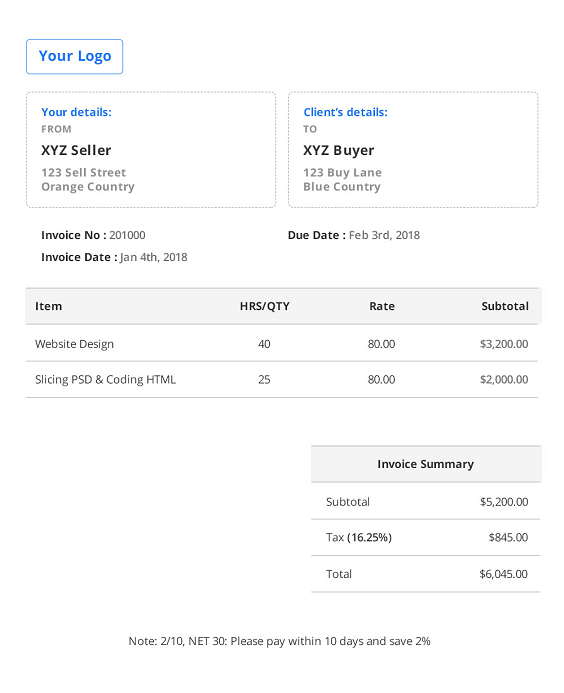 Invoices must also specify what payment methods are acceptable to the freelancer. Typical options include bank wire, PayPal, Skrill, Neteller, Visa, Apple Pay, etc. Remember, your choice of payment option also determines the fees and commissions you're going to be paying to these payments processors. Invoices should also clearly state the penalties for late payment (usually outlined in the contract or working agreement). Another important issue pertains to when invoices are sent out. If clients need their invoice to be in before the end of the month, it's important not to send invoices late. They may be placed on a pile of 'to-pay' invoices for the next billing cycle.
"71% of freelancers have reported difficulties getting paid at some point in their professional career."*
The content of the invoice is equally important. The client needs to know precisely what they are being billed for, and this should be broken down into individual work components, or project-based elements. Some clients are billed by the word, the hour, or by job/project. Specify the breakdown of individual work components and the corresponding request for payment. A client should be able to quickly scan these bullet points on the invoice so they can easily understand what they're being charged for.
Timely payments are vital to the success of a freelancer's business. . Since a chain is only as strong as its weakest link, the quality of the freelancer work and the back end of business operations must be ironclad to ensure prompt and timely payments. Another big benefit of well-crafted invoicing systems is that they serve as an effective source of records in the event of tax audits.
Instead of maintaining mounds of paperwork, a properly maintained invoicing system can organize everything much more efficiently. This reduces clutter and makes it much easier to find relevant information. It may be a good idea to provide discounts on specific components of the work order, or the overall work order as an enticement to the client. Modern-day invoices can also include payment links on the actual invoice for things like PayPal, Visa, MasterCard etc. You may wish to include these in your invoices in order to make it easy for your clients to pay.
The objective of a professionally crafted invoice is to make it as easy as possible for the client to review charges and pay. Invoices sent through a professional invoicing system also create more emotional distance between the freelancer and service provider. When a freelancer urges and nudges the client to continually make payment, it comes across as unprofessional, and does not create the necessary separation between the professional work that is provided, and the management function of billing and payments. Remember, the quality of your work is just as important as your ability to collect payment for your professional services. Invoices are your point of call for this specific purpose.
Conduct Necessary Research on Potential Clients
You should conduct a thorough research and due diligence on potential clients before signing up for a contract. There is no ethical or professional prohibition in seeking reviews from the firms that the client has worked with before. This will help in understanding the client's behavior and attitude when it comes to payments.
You must be familiar with clients' budget, the amount they owe to other businesses, size of company, and whether they are organized when it comes to making payments. The due diligence would help in anticipating exactly what to expect from the potential client. You can get the data from commercial credit reports and small claims courts.
Furthermore, try to collect at least 50% of the amount before the project starts or when it is underway. You can also set up a milestone system where the client has to release payment after you achieve a certain milestone.
Develop a Legal Contract
Most people do not appreciate the effort they have to put in to develop a contract. But it is the best thing you can do for the business, especially if it is a small one. Legal contract protects your energy, time and creativity.
Hence, you must develop a contract that contains all the details including nature of work, payment details, deadlines of submission and final payment. Legal contract would ensure that the court rules in your favor if it comes down to it. You can also include penalties if the clients do not pay on time.
Be Vocal About Payment Terms
Payment terms should be communicated to clients both verbally and via documents. Invoice should clearly indicate the date and the total amount that is due. There should be no confusion about it in both parties. Clients should know:
Deadline to make payments.
Consequence for not paying the amount on time.
You charge late payment fees.
Steps that would be taken if the project is stopped midway.
Your preferred methods of payment.
Being vocal about the requirements and signing a legal contract would ensure prompt payments. You should use it as a red flag if the client does not acknowledge the requirements and refuses to sign a contract. In contrast to popular belief, most clients would appreciate it because a contract protects their time and resources as well.
Develop A Contingency Plan For Unpaid Invoices
You should be proactive in reminding the client about unpaid invoices. There should be a plan in place when the client fails or refuses to make payment within the agreed time frame. You can develop a contingency plan which can have following steps:
Call The Clients
Some clients are not as active on the emails because of the nature of their businesses. It is best to give them a call if they are not responding to emails. A phone call for a friendly reminder is usually enough to get overdue invoices paid.
Follow Up with a Letter
If the client does not respond to calls follow up with a formal letter. The tone of the letter should not be friendly and must include the consequences if the client fails to respond to it. You must also write about the steps you have taken before to remind the client about unpaid invoices. The letter should include invoice number, payment details and time that has passed after the deadline.
Take The Legal Action
Legal action should be the last resort as it sours the relationship with clients. Furthermore, do not expect full payment because a decent amount would go into court and lawyer fees. However, if the client is not mending the attitude, this step must be taken to protect other small businesses.
That said, there is a way to avoid court and lawyer fees and that is by adding a clause to terms and conditions. You can add that if the clients refuse to clear payment after deadlines, the court fee and lawyer charges would be on them. However, it is a tricky area as it can discourage the clients to start a project with you. It is up to your people skills to sign such a contract without offending them.
Reach To Business Reporting Bureau
Clients that refuse payments within the agreed time frame must be reported to the Business Reporting Bureau. You should not let the clients ignore unpaid invoices even if the amount is small. It not only ensures that you receive those payments but also lets the other business know about the conduct of a particular client.
Complaining to the Business Bureau threatens the reputation of the company and limits their credit limit in the future. Furthermore, it is best to let the client know about the complaint you are about the file. Most of them would mend their attitude and clear all the unpaid invoices to save the reputation.
FAQs
How Can You Avoid Non-Paying Customers?
You can avoid non-paying customers by conducting thorough research and seeking reviews from other businesses. You can also get the information about complaints against clients from small claim courts.
How Do You Deal With Non-Paying Customers?
You should deal with such customers in a way that ensures release of payment while maintaining a good relationship with them. Give them friendly reminders but if all the efforts are in vain take strict actions like legal battle even if it comes at the expense of losing the client.
How Can You Motivate Customers To Pay On Time?
You can motivate the clients by articulate communication, deliver quality work on time and establish a good working relationship.
How Do You Deal With Overdue Accounts Receivables?
The best strategy is to establish a milestone payment system. When you complete a particular portion of a task, request the client for payment. Proceed to the next step only if the previous dues are cleared.
How Long Do You Have To Wait To Sue Someone For Money Owed?
You have one year from the date of harm which would be the deadline for payment to file a suit against the client. The time frame is wider when you want to sue the government for violating a contract.
*Source: Freelancers Union